Birthday Flowers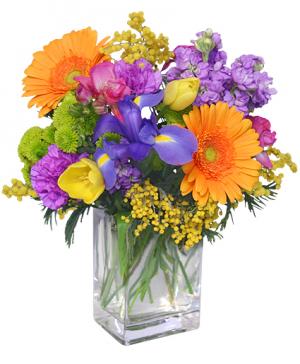 CELEBRATE THE DAY
Fresh Flowers
Celebrate the day with this delightful bouquet! This arrangement is a vibrant mix of orange gerberas, yellow tulips, purple carnation, and fuchsia freesia that turns heads and brightens smiles. No matter what day you are commemorating, Celebrate The Day will be the perfect gift to mark the special occasion.
$45.00, $55.00, $65.00
Shown at $55.00
More Info
A birthday is like a special holiday dedicated to a single person. Everyone buys gifts, eats cake, sings songs and celebrate in their honor. Wish someone a happy birthday with flowers just for them! TOWN & COUNTRY FLORIST & GIFTS, INC. can help you send the perfect birthday flowers for anyone, whether it's here in Berwick, or across the country. There's nothing better than a surprise flower delivery on your birthday to put you in the mood to celebrate.